Kranzle K2160 TST Pressure Washer With Hose Reel & Dirt Killer Quick Release
► Worldwide Express Tracked Shipping
► Price Match Guarantee. Found a lower price? We'll match it*
► Peace of mind assured with industry leading warranties.
Got a question about this product? Contact us
The new K 2000 series represents continued development of the well-proven Kranzle shuttle series. These machines are industry leaders because of their robustness, modern looking design and top quality engineering. 
Some of the added benefits to the widely successful shuttle series because of new processes and advancements in technology available include:

Inside larger over-dimensioned gears and oil housings are used which are designed for continuous operation, helping to considerably extend the working life of these cleaners. These pumps are made with brass valve casings and ceramic coated stainless steel pistons.
Suitable for domestic, commercial or industrial use, offering up to suggested continuous use between 6 - 8 hours every day.

Rotational moulding, using very strong polyethlene plastic, makes the casing extremely stable and sturdy. Large wheels make it easy to move, even on difficult terrain, and increases stability during operation. Although machines should still be used in the horizontal position.

The letters 'TS' in the model name indicate the model is fitted with our Total-Stop system: while Kranzle machines do not need to turn off everytime you let go of the gun because of the superior un-loader system fitted. Excessive, unnecessary 'on/off' operation may actually shorten the life of motors, especially when running on extension cables or generators. Conversion between Bypass operation and Total-Stop is possible, relatively quick and easy should you want to use your machine the other way. The 'TS' models tested do have lower signs of wear to the seals, resulting with longer periods between servicing required. Energy costs are lower because when the trigger gun is released the motor stops automatically, then when the trigger gun is squeezed again, the machine restarts. The motor and pump only run when they are actually needed, saving electricity.
There are storage compartments for the trigger gun, Dirtkiller lance and Vario lance built into the casing of the machine. Winding lugs for the power cable keep the 5M power cable tidy, and also double as a quick storage grip for the lance and trigger gun in between use.
Compared to previous T series models, the hose drum is considerably larger, making it easier to wind up the hose. Machines without the hose-reel come with 10M of high pressure hose. The T-series come with 15M allowing you to cover an area more than twice the size.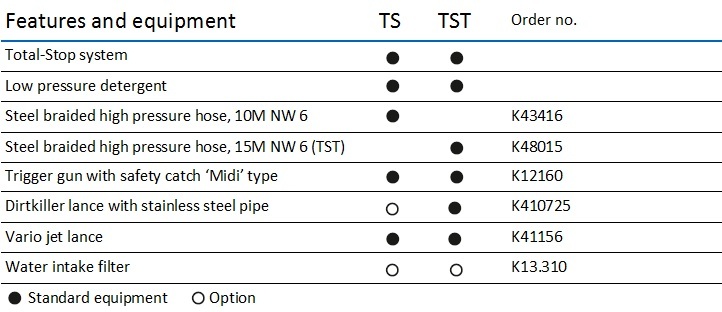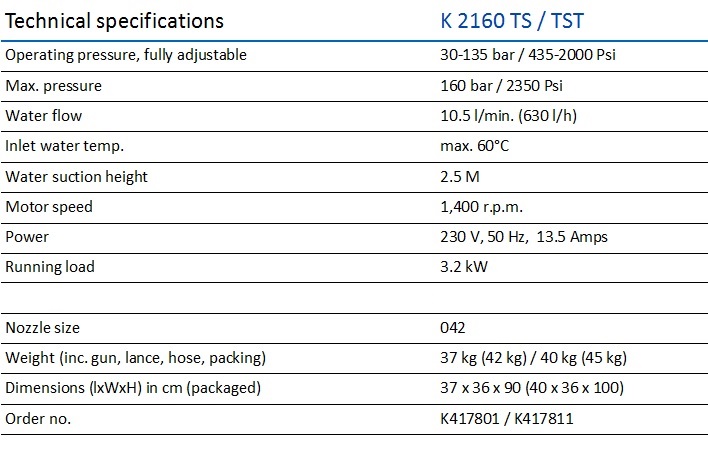 We get a large number of custom orders and requests everyday, so as a result it is not always possible for us to keep every item in stock at all times in our warehouse. If you require the item urgently please contact our sales team here to check the stock before you make your purchase.
We totally understand if you're not certain a part will be compatible with your car, so we highly recommend contacting us here with your query. Our friendly sales team will then be in touch to confirm if this part is the correct part you are looking for.
All in stock products ship the same day if ordered before 2pm GMT
For out of stock items we will contact you with an estimated wait time if not otherwise specified above.
We offer worldwide shipping on all products. If upon receiving your product you wish to return; we offer a 30-day returns policy. For our in-depth returns information please follow the link. "R44 Returns Policy
All of our products come with a standard warranty of 1-3 years. This is dependant on the type of product however. For more details please see our warranty page here.